Pheromone spray test drive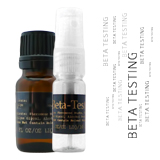 Beta Testing: There are numerous ways for a pheromone spray to enter into the beta testing stage.

* A personal pheromone spray that we feel shows great potential. Every pheromone blend goes through a rigorous process of pre-beta testing before this stage. Once it has proven worthy through a series of field tests it is released as a beta.
* Custom Pheromone spray that a client has requested and reported on. We simply don't just stake our reputation on what a single client reports. Again we personally pre-beta test the pheromone spray in the field and make comparisons for analyses.
* Changes to established pheromone blends. Occasionally there could be an adjustment to a blend for any number of reasons. However, out of respect for our clients we will never make a change and not beta-test first. Please be assured if anything changes in a pheromoneXS blend you will be made aware before you purchase it. pheromoneXS doesn't just believe in transparency, we practice it.
Important Information!

Thank you for your interest in the Limited Editions and Beta Testing area of our store. There are NO SAMPLES available. Each product is created in "Limited" supply specifically for research and development purposes. The pricing is substantially discounted from our regular products for affordability.

All Limited Edition pheromone blends including Custom and Beta Testing are offered without warranty and are NOT covered by the pheromoneXS Guarantee.

Please use discretion when considering purchasing an untested pheromone spray or oil. pheromoneXS values your feedback in this area. If you are unfamiliar with pheromones your best choice is our signature pheromone spray series for Men, Women and/or Unisexy.