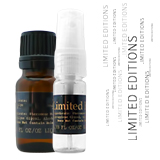 Welcome to the pheromoneXS "Limited Editions" section of our store. You are soon to discover some incredible blends that have passed all of our rigorous personal tests. As pheromone enthusiasts we made a commitment to only sell blends we personally use. You can be confident that these blends are just as great as all the other XS products loved by our clients.
The insights contributed by authentic pheromone hobbyists on the DiscoverXS forum is the foundation all Limited Edition blends are built upon. It is this real world experience that enables us to refine these blends to perfection. Your reviews, criticisms and praises alike, are the fuel that drives the creativity engines here at pheromoneXS.
Many of these blends go on to become retail products while others will remain as Limited Editions. In the interest of preserving an accessible order to all products we have determined these blends do not neatly fit into a category. To best serve our pheromone community the blends listed here are those we are committed to continue making available but not clear where they might fit otherwise. We are sure you're going to love them as much as we do!
Showing 1 to 10 of 10 (1 Pages)